Nailers & Staplers: Apach LU-216LC Medium Crown Stapler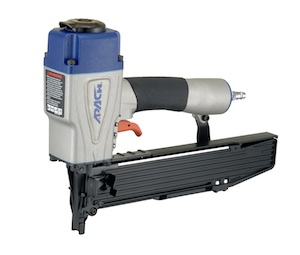 The new LU-216LC Medium Crown Stapler is a great addition to the Apach offering. This tool has been upgraded from its predecessor, now boasting a redesigned body and magazine. The LU-216LC will accept all 16 Gauge N and 7600 Series staples, along with 17 Gauge medium crown staples, making it extremely versatile.
The tool's power has been increased to accommodate the hardest of woods. The new magazine design is lighter, therefore making its power-to-weight ratio above average, while helping to reduce fatigue and increase the ease of handling.
The LU-216LC comes standard with a tool free depth of drive adjustment and a quick clear nose to keep down time to a minimum.
Apach offers 2 trigger options; Bump Fire (orange) or Full Sequential (black). This tool also has a slim long nose for easy line of sight and easy access to tight spots.
The LU-216LC is perfect for Sheathing, Decking, Crating, Furniture and Pallet Repair.
Contact Axxis for more information at 888-392-9947 or on the Web: www.axxisus.com