Simpson Outdoor Accents Decorative Hardware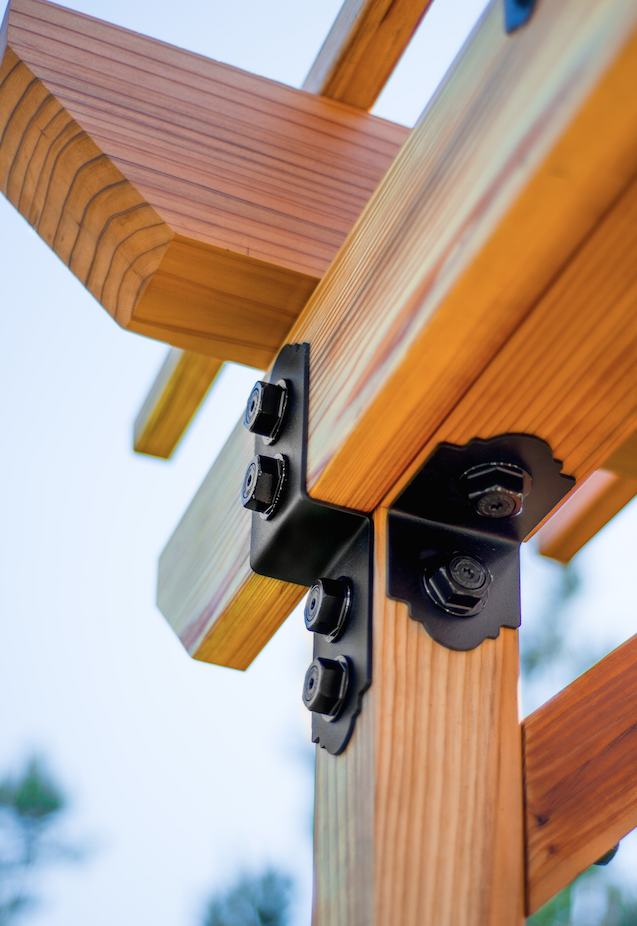 Outdoor Accents decorative hardware is a new line of connectors and fasteners from Simpson Strong-Tie that provides both design elegance and structural strength to custom outdoor living structures.
This load-rated, patent-pending hardware accommodates 4x and 6x lumber sizes, providing the flexibility installers and Designers need when designing and building custom outdoor structures.
The new mission style connectors, which include post bases, strap ties and angles, are made from galvanized steel with a black powder-coat finish for corrosion protection. The fasteners are all exterior rated and also feature a black powder-coat finish.
A key feature of Outdoor Accents is an innovative hex-head washer that is used with a structural wood screw to offer the look of a bolted connection with the installation ease of a screw. The patent-pending design of the washer makes for an easier and significantly faster installation compared to through-bolting.
It is code listed (IAPMO UES ER-192) and is designed exclusively to help fasten Outdoor Accents post bases, T and L straps, and angles.
"We are excited to offer our customers such an attractive hardware line that combines easy installation with load strength," said Sam Hensen, vice president and general manager for Connectors and Lateral Systems.
Key features of Outdoor Accents:
Post bases secure wood columns to concrete, while providing a 1" standoff height that helps reduce decay
Flat T and L strap ties bring decorative appeal and lateral strength to outdoor living spaces as well as indoor projects
Fastener and washer create decorative bolt-like connections, but install with the ease of a screw and without predrilling
Structural strength tested and approved to meet stringent building codes for high-wind or seismic conditions
Galvanized steel with a black powder coat provides corrosion protection
Patent-pending design facilitates easy installation
Visit www.strongtie.com/outdooraccents to watch a video and learn more about Outdoor Accents hardware.