Simpson Strong-Tie Strong-Drive WSV Subfloor Screws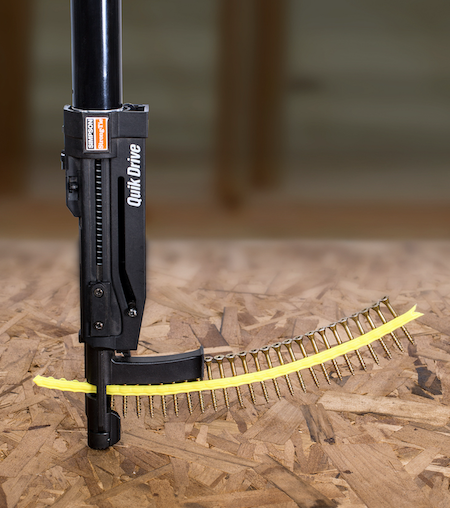 Simpson Strong-Tie has introduced a new line of Strong-Drive WSV Subfloor screws designed to reduce driving torque, increase installation speed and nearly eradicate the squeaking caused by poorly fastened subfloor sheathing.
Re-engineered from head to point, Strong-Drive WSV Subfloor screws feature a ribbed head design to countersink screws for a clean, finished appearance and a variable thread to ease driving torque and speed fastening jobs when used with the Quik Drive auto-feed screw driving system.
"Using the new Strong-Drive WSV Subfloor screw with the Quik Drive system is amazingly fast and easy," says Tommy Hughes, owner of Tommy Hughes Construction in Powder Springs, Ga. "I don't have to work as hard and there's also less wear on my equipment. I don't want to use anything else."
For contractors, fastening subflooring with WSV screws provides the power necessary to hold the sheathing to the joists, eliminating gaps that can lead to squeaking and costly callbacks on newly installed floors.
"We've taken our already popular line of Strong-Drive WSV Subfloor screws and upgraded it with contractor input and thoughtful re-engineering to help meet the demands of today's jobsite," said Ed Sutt, vice president of Fastening Systems for Simpson Strong-Tie. "By combining lower torque with greater fastening power, the WSV provides faster, easier installation of subfloor sheathing with the strength to eliminate the gaps that lead to squeaking and callbacks."
Available in 1 3/4-, 2-, 2 1/2- and 3-inch lengths, Strong-Drive WSV Subfloor screws have a yellow zinc coating for interior applications and are the only fasteners to be dual-evaluated per ICC-ES AC233 and ICC-ES AC120. Additional features of the Strong-Drive WSV Subfloor line of screws include:
Redesigned point and thread pattern provide easy starts and up to 25% less torque, which translate to faster driving.
Lower installation torque also means less wear on tools.
Deep-recessed 6-lobed ribbed head provides clean countersinking and more secure bit retention for easier installations.
The holding power of WSV screws reduces the gaps between the joist and subfloor that cause floor squeaks.
WSV screws can be backed out easily, facilitating future access to floor cavities.
For more information on the Strong-Drive WSV Subfloor line of screws, including technical notes, installation notes, driver bit requirements and load tables, please visit www.strongtie.com/strongdrive_collatedinteriorwoodscrews/wsv_cscrew/p/strong-drive-wsv-subfloor-screw.