Other Products: Rockler Shelf Blocks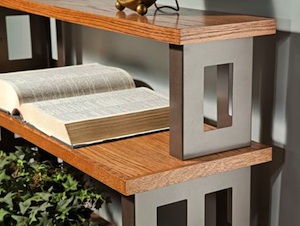 Rockler Woodworking and Hardware has just added two new sizes of I-Semble Shelf Blocks to their custom furniture category. The two new Shelf Block options (6" x 8" and 6" x 13") join the 10" x 13" size already offered.
The I-Semble product line is a series of components designed to help do-it-yourselfers design and build custom furniture such as shelving, entertainment stands, desks, and coffee tables using common household tools.
The I–Semble Shelf Blocks feature a black powder coat finish which can be painted to match decor. The new sizes introduce a wide spectrum of construction and design possibilities while maintaining the philosophy of simple assembly. They are designed so that multiple sizes can be used in the same furniture piece, resulting in nearly endless options. The mounting screws to install the I–Semble Shelf Blocks are included in the package.
I–Semble Shelf Blocks are sold in packs of two. The 6" x 8" Shelf Blocks (49157) retail for $16.99 per pack, the 6" x 13" Shelf Blocks (48832) retail for $18.99 per pack, and the 10" x 13" Shelf Blocks (47512) retail for $20.99 per pack.