Nailers & Staplers: Stanley Bostitch Mini Impact Nailer
60% smaller design improves maneuverability in metal connector applications.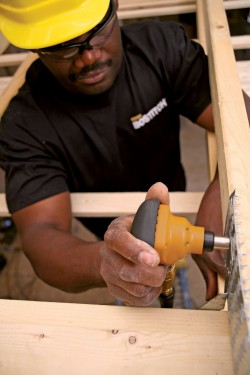 Stanley-Bostitch announces a new mini impact nailer, the PN50.
Weighing only 1 pound, the PN50 is 60% smaller and lighter than previous Stanley-Bostitch models to provide ultimate accessibility in tight spaces.
Featuring a multi-blow operation, this tool is designed to drive bulk nails individually into materials by inserting a nail into the magnetic drive channel and then pressing the nail into the metal connector hole. When pressed, the mini impact nailer begins a series of repeated blows that will drive the nail flush in a matter of seconds.
A well-known characteristic of all impact nailers is the propensity to become cold during constant use; however, the new Stanley-Bostitch mini impact nailer solves this problem by providing a rubber over-grip. This feature insulates the user's hand and directs exhaust out of the front of the tool. By doing so, this simple solution reduces direct contact between the cold surface of the tool and the user's palm.
The rubber over-grip also acts to dampen the tool's vibration for added comfort and less fatigue. Additionally, a swivel fitting provides added maneuverability as the contractor navigates around beams and joists.