Nailers & Staplers: Powers Fasteners Trak-It C4 CZ Gas Fastening System
The most innovative gas tool on the market.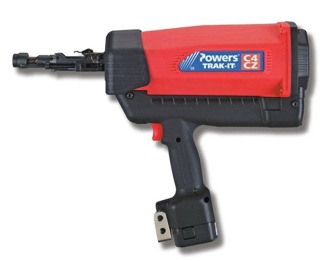 Portability plus — no hoses or compressors needed, the C4 CZ is a single shot gas fastening tool for light duty static load applications.
The Trak-It C4 CZ has 150 joules of power to deliver 30% more power than most competitive tools on the market today. This unique tool has the ability to shot .300 headed pins and 8mm powder actuated pins up to 3 inches in length to make this tool both versatile and user friendly. The tool will shoot Shank Diameters including .157 .145 and .102.
A full cell contains enough gas to install up to 800 to 1200 fasteners. Operations of gas fastening systems do not require special safety training or licensing, making the Trak-It C4 CZ great for converting powder applications to gas.
Base Materials: Concrete, Light Weight Concrete, Hollow & Grouted CMU, Masonry and Steel.
The new Powers Trak-It C4 CZ is in stock and ready for delivery. Call our toll free number for your nearest authorized Powers distributor: 1-800-524-3244.