Nailers & Staplers: Duo-Fast Construction Coil Siding Nailer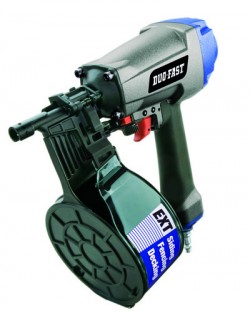 Duo-Fast Construction has introduced a new Coil Siding Nailer, Model DF225C.
It is a lightweight, powerful tool designed to handle production nailing of siding, fencing and decking. It is even more productive when used as a system with Duo-Fast "CI" and "CS" series plastic collated round head coil nails.
"Our new lightweight coil siding nailer is one tough, durable tool that was designed specifically to work with our CI and CS nails as a system," said Tracy Tryboski, Marketing Manager for Duo-Fast Construction. "When used as a system, the contractor will experience fewer nail jams, less wasted nails and fewer clean up hassles, making the job quicker and easier to complete."
The engineers at Duo-Fast Construction have packed the new DF225C with many features that will make this the tool of choice on the jobsite. It weighs just 4.5 pounds to lessen worker fatigue. With its tool-less depth of drive, workers can quickly and accurately seat nails into siding to the manufacturer's specifications, thereby avoiding overdrives and warranty issues. Plus when used with Duo-Fast CI and CS series nails, which are 0-degree plastic collated, there is no worry about rust staining the siding as can happen with wire-weld collated coil nails.
The new Coil Siding Nailer also features a durable rafter hook, a 360º adjustable exhaust cap and a comfortable rubber grip for all day use. Its nail capacity is 300 nails with a switchable trigger and a clear magazine to monitor nail usage. It can be used with smooth, ring and screw shank nails from 1-1/2" to 2-1/2" with shank diameters of .080 to .105.
The DF225C will be available at distributors in October 2009.