Compressors: Sullair 230 Volt S-energy Rotary Screw Air Compressors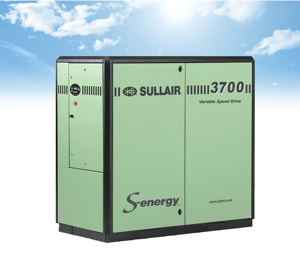 Sullair is pleased to introduce its new line of 230 Volt VSD S-energy Lubricated Rotary Screw Air Compressors. Designed to meet the growing demand for variable speed drive energy efficiency in a 230V package, this expanded line of compressors now includes Models 1100e, 1500e, 1800e, 1800, 2200, 3000P, 3700 and 4500, all of which are now available with Variable Speed Drive.
These models range from 15 to 60 horsepower, with capacities from 46.4 to 222 cfm and pressures ranging from 100 to 175 psig.
As energy costs continue to escalate—frequently representing as much as 82% of the total operating expense of a compressed air system—Sullair consistently responds with new equipment, technology and performance features that address significant fluctuations in air demand.
Typical are the energy-saving features provided by Sullair Variable Speed Drive compressors by varying the speed of the drive motor to match rising and falling air demand. By adapting speed to output, Sullair VSD compressors keep working at maximum efficiency. This is one of the most effective ways to minimize energy consumption and conserve costs.
Having the same footprint and performance characteristics as the 460V, the Sullair 230V VSD S-energy Compressors are designed to help users significantly reduce operating and energy costs over the entire compressor life cycle.
Contributing to these energy savings is Sullair's time-tested air-end design with low restriction inlet valve for superior CFM performance, the new low-pressure drop air-fluid separation system to prevent energy loss, and a high efficiency centrifugal cooling fan. The Sullair S-energy compressor package also includes a variety of design features that simplify maintenance, improve reliability and extend service life.