Compressors: Sullair E900H 900 CFM Electric Portable Air Compressor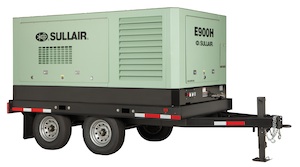 Sullair Corporation introduces its revolutionary new E900H Electric Portable Air Compressor, the only 900 cfm electric portable in the domestic and 460/60 markets. Designed to combine the clean, quiet efficiency of electric drive technology with the Sullair legacy of rugged air ends and portable compressor designs, the E900H offers an amazing 67% lower operating cost than equivalent diesel-driven compressors. The Sullair E900H Electric Portable Air Compressor delivers 900 acfm at operating pressures up to 150 psig.
Available with a built-in high capacity, low-approach after-cooler and highly efficient down-line filtration, the Sullair E900H provides an ideal source of supplemental, replacement or emergency instrument quality plant.
The mobile Sullair E900 Electric Portable Compressor features standard 460volt/3 phase/60 Hz cam-lock electrical connections for quick connect installation using standard electrical power or portable generators for either indoor or outdoor applications.
The Sullair E900H Electric Portable Compressor is designed to provide many of the same features as its diesel driven counterpart, but without the time and expense required for re-fueling and diesel sourcing. The system is powered by a 214 HP premium efficiency TEFC electric drive motor with Wye-Delta starter and provides 100% emission-free operation.
The unit has a user-friendly deluxe instrument panel that includes easy-to-read gauges and visual alerts to compressor operating conditions and service prompts. The enclosure has large lockable service doors that provide ample access to motor and compressor for service and maintenance.
The E900H Electric Portable Compressor also features a highway towable tandem axle design that supports a full fluid containment frame; and includes electric brakes, restraining tow chains and tail lights.
For optimum hot and cold weather lubrication, the compressor system is charged with Sullair AWF Compressor Fluid that offers longer fluid life and an extended 5-year air end warranty.