Other Products: KH Industries RTB White Cord Reels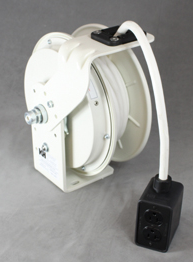 Featuring all steel construction with white powder coat finish, KH Industries' RTB White Cord Reels include 12/3 SJOW or 12/3 SEOW white power cable to deliver 20 amps of service while providing an unobtrusive temporary power solution.
Units are NEMA 4 listed for indoor, outdoor, and wet location use and have 30 A/600 V rated slip ring. Available with cord lengths of 25, 35, and 50 feet, reels include adjustable ball stop, positive lock ratchet, and formed steel mounting base.
KH's RTB white cord reels are an unobtrusive solution for retail applications, educational/instructional facilities, and event/hospitality venues in place of safety yellow or red cord reels.
For additional details, visit: http://www.khindustries.com/ReelTuffCordReels
Or call: 716-312-0088.