Scaffolds & Ladders: Werner PDA363 Aluminum Podium Ladder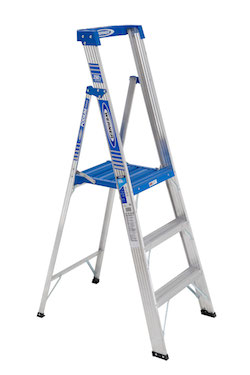 Werner announces the introduction of an aluminum option to the growing line of Podium Ladders. The new aluminum Podium Ladder offers the same reach as a five-foot stepladder and is ideal for painting and projects that require working at fixed heights.
The introduction of Werner's Aluminum Podium Ladder expands the company's family of Podium ladders, which allow users to work facing any direction. These new ladders feature an extra-large standing platform that makes it almost feel like a user is standing on the ground.
The PDA363 aluminum model is lighter than the Fiberglass Podium ladder, and allows homeowners and DIY enthusiasts to easily move around while feeling confident the 250 lbs load capacity gives the needed support.
Perfect for home improvement jobs that require working at a fixed height, the PDA363 Aluminum Podium Ladder is easier to set up, maneuver and use than scaffolding.
Home improvement projects like adding crown molding or lights have never been easier. The wrap around guardrail also provides an extra point of user support and the HolsterTop organizes tools and accessories at the top of the ladder where they are needed.
Product highlights for the new PDA363 Aluminum Podium Ladder include:
Work Facing Any Direction: Designed to provide a large standing platform that allows users to face any direction while accessing the project at hand.
Waist-High Guard Rail: The extended guard rail wraps around the ladder top for more security and freedom of movement.
Edge Bracing System: Provides enhanced strength and helps prevent rail damage.
HolsterTop to Secure Supplies: With the HolsterTop functionality, DIY enthusiasts can secure an arsenal of tools and accessories that are compatible with Werner's Lock-In Accessory System. Whether there is a need for a Paint Cup or Utility Bucket, users have the ability to expand their work area at the top of the ladder.
Load Capacity: With 250 lbs. load capacity and a Type 1 duty rating, the Podium will comfortably support you and your tools.
Slip-Resistant: Slip-resistant TRACTION-TRED steps provide an extra level of safety.
Priced at $89, the new aluminum Podium is a welcome addition for any home project.