Scaffolds & Ladders: Wildeck JiffyStair Modular Stair System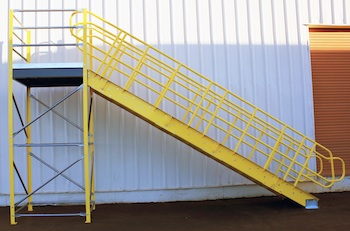 The JiffyStair Modular Stair System presents customers with a fully palletized knock-down assembly stair system. As a palletized stairway system, the JiffyStair maximizes efficiency and speed.
Manufactured for customer readiness, the JiffyStair is efficiently packaged on a pallet for cost-effective shipment, and speedy assembly in the field.
"The new JiffyStair will be a favorite of our customers," said Hubert A. Schlegel, director of Marketing, Wildeck. "We look to please our customers with a quality manufactured product that utilizes a modular framework, packaged completely on a pallet, and provides cost-effective shipping - all with a customer-ready response time."
The JiffyStair Modular Stair System seeks to provide customers with a quality stair system for quick stair solutions. Its exclusive product packaging fits all components on a standard pallet for hassle-free shipment. Customers will appreciate the freight rates on the new JiffyStair Modular Stair System when compared to other stair systems, especially since it is available for shipment by other means, such as LTL, to reduce freight rates.
Wildeck, Inc. – based in Waukesha, WI, is in its 39th year as the largest manufacturer of industrial steel work platforms (mezzanines), VRCs (vertical reciprocating conveyor), and safety guarding products. Wildeck products are "Made in USA" and are used for the safe and efficient handling, storage, and protection of materials and personnel. For nearly four decades, the company has grown through a dedicated and experienced network of customer-service-oriented dealers and systems integrators, nationwide.
Ladder Industries Inc. – based in Goodyear, AZ – is firmly committed to manufacturing safe access products of high quality and performing with integrity. Ladder Industries is the West's oldest and most dedicated designer/manufacturer of stair and ladder products with more than 60 years of experience serving industrial and commercial customers. Ladder Industries is a subsidiary of Wildeck, Inc.
For more information on the complete line of Wildeck and Ladder Industries products and services, call 800-360-6789, email info@wildeck.com, or visit www.wildeck.com and www.ladderindustries.com.