Other Products: Wrangler RIGGS WORKWEAR Announces Partnership with Brett Favre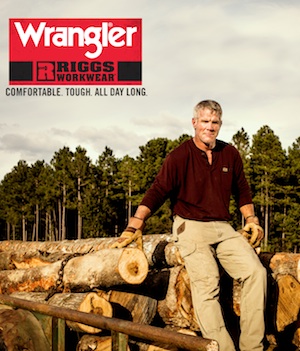 Wrangler RIGGS WORKWEAR announces that future NFL Hall of Famer Brett Favre will be the new face of the leading industrial grade apparel collection. Favre, a long-standing Wrangler brand partner, will appear in the collection's upcoming 2015 marketing campaign.
"As the NFL's all-time winningest quarterback, Brett Favre is the epitome of hard work, so it's only natural that this close friend and longtime spokesman for Wrangler serve as the face of our collection designed for hardworking craftsman and laborers," said Craig Errington, vice president of marketing communications, Wrangler Specialty Apparel. "His dependability, toughness and down-to-earth demeanor make him the ideal partner for this collection."
Known for offering products designed to meet the demands of men who work long, hard hours in tough conditions, Wrangler RIGGS WORKWEAR uses quality field-tested materials that are durable, versatile, easy to care for, and, most of all, comfortable right off the shelf. Backed by the brand's lifetime warranty, Wrangler® RIGGS WORKWEAR has a robust product roster that offers innovative technology and convenient features including:
Pants developed with CORDURA fabric specifically engineered to offer strength without sacrificing comfort.
Durable fabrics designed to deliver unparalleled protection, including abrasion-resistant Durashield denim and 100 percent cotton Ripstop that prevents tearing and offers added breathability.
Exclusive room2move relaxed fit with gusseted construction that allows for a greater range of motion in all directions.
Dirt drop vents that leave dirt and debris behind on the jobsite.
Reinforced panels and triple-needle stitching for added durability.
FR protective fabric specially designed to meet flame resistant requirements from leading protection agencies including the National Fire Protection Agency (NFPA), the American Society of Testing and Materials (ASTM) and the Occupational Safety and Health Administration (OSHA).
"When it comes to getting the job done right, I trust Wrangler," said Brett Favre. "I've always looked to Wrangler for comfortable jeans, and have worn RIGGS for years doing work around my property. The products give me the protection and durability I need along with the comfort I've grown to expect."
Favre will be featured in national advertising, promotions and in-store signage for Wrangler RIGGS WORKWEAR starting this summer, coinciding with the June Father's Day shopping period. The current and upcoming collections offer a complete range of tops and bottoms to cover any job, any time of year, at an affordable price-point of $20 to approximately $60.
To shop the entire collection, visit Wrangler.com. To find a retailer near you, or for more information about the collection, visit Wrangler.com or call 1.800.245.9766.