Other Products: Panasonic Multi Tool Qualifier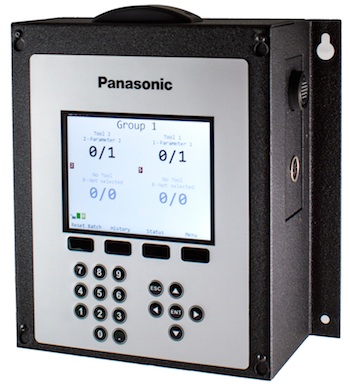 Continuing its commitment to providing the most cutting-edge and technologically advanced assembly tools, Panasonic introduces the new EYFR03 Multi Tool Qualifier.
Panasonic's new Multi Tool Qualifier is the only qualifier on the market with 16 tool connectivity. This advanced new technology has both integrated and remote I/O versions, boasts a color LCD screen, USB Plug & Play firmware updates, onboard data collection for up to 10,000 rundowns and is able to be configured to remotely enable or disable tools, helping to keep them in the designated work station.
Incredibly versatile and cost-effective, the new Multi Tool Qualifier allows users to run an assembly line any way they would like to. The network connectivity allows users to connect with Ethernet IP, Atlas Copco Open Protocol and Atlas Copco Toolsnet. Compatible tools can also be programmed to be disabled when taken out of the Qualifier's wireless area, reducing the possibility of tool theft.
For more information on the Multi Tool Qualifier, call 1-800-338-0552 or visit:
http://www.panasonic.com/assemblytools.