Other Products: Trimaco X-Board Surface Protector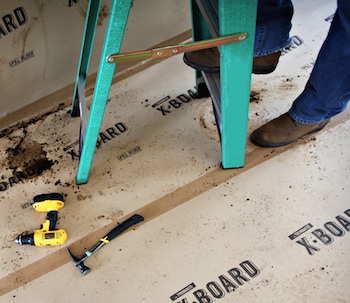 A lightweight but tough alternative for surface protection, Trimaco X-Board will last for the endurance of the job.
It offers many of the same great features as Trimaco FloorShell Surface Protector. X-Board is breathable to protect new and existing wood, concrete, stone, tile, linoleum, epoxy, vinyl composition tile (vct) and most other floor types.
Worried about spills? Don't be! Featuring Spill Block innovative liquid repellent technology, X-Board protects against paint, mud, water and more. It's also recyclable, FSC-certified and made in the USA.
X-Board is easy to install — simply roll out what you need and secure with Trimaco's FloorShell Seam Tape. X-Board is available in two different size rolls, 35" x 50' and 35" x 100'.