Other Products: L.B. White Foreman 500 Dual Fuel Indirect‐fired Heater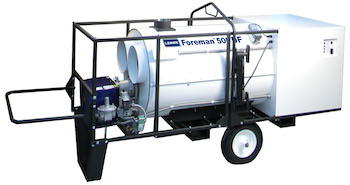 L.B. White Company is pleased to introduce the Foreman 500DF indirect‐fired heater.

When heating non‐ventilated areas or when clean heated air is needed, L.B. White's Foreman 500 DF (Dual Fuel) heater is the new heater of choice for a wide range of construction and tented events.
This robust and framed, 500,000 btu/h vented heater produces long air throw and has dependable and quiet operation compared to other indirect heaters. The stackable heater includes fork pockets and lifting hook, rugged urethane wheels that don't go flat yet absorb shock like pneumatic tires, an easy access side panel for maintenance, and a reliable Riello burner.
Multiple diagnostic indicators tell you if there are issues with the burner or somewhere else on the heater, and what is wrong.
The Foreman has the capability to recirculate the heated air by adding a duct, and includes the option of moving the heated air with two 12" ducts, or one 16" duct. A remote thermostat control can be added to control the temperature of the area being heated. Additional features include a cord wrap and a simple lever to switch between LPG and Natural Gas.
L.B. White plans to release a kerosene/diesel fueled cousin to the Foreman later this year.