Isaberg Rapid R11 Professional Hammer Tacker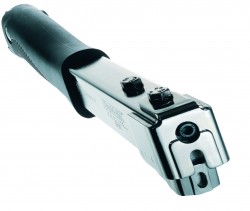 By popular demand; the Rapid R11 hammer tacker is back!
The R11 is a highly professional, easy-to-use hammer tacker for stapling fitted carpets, insulation material, roof paper, labels etc. Single-handed, ergonomically designed rubber grip that can be held in four different ways, allows for easy operation.
Takes flat wire staples up to 3/8" (6 - 10 mm). A sturdy, tough metal construction with only four parts makes R11 so reliable that it is specified for 100.000 operations.
And you don´t need to throw away your favorite after that, because spare parts are of course available. Talking about eco friendly products – that´s what we call optimum use of resources.
Made in Sweden!