Rapid Warrior Re-Invents Utility Knife Category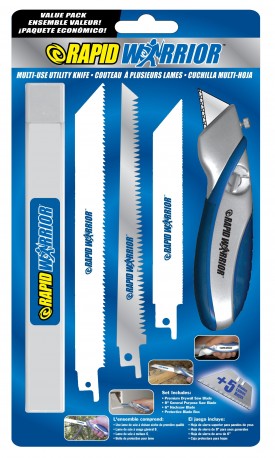 New, unique low-investment, high-profit counter displays introduced.
Rapid Tools, inventor of the industry's only serrated-edge utility blade, made its first appearance at STAFDA's Annual Convention and Trade Show in Atlanta, Nov. 8-10, 2009. Rapid has been making big news in the tools marketplace for several years, winning customers' hearts and major industry awards for innovation. Both the Rapid Warrior and the Rapid Shark received the Editor's Choice Award from Popular Mechanics and the Shark won a prestigious Innovation Award from Handy magazine. Rapid's serrated blades have received numerous honors.
The Rapid Warrior offers a stunning number of benefits and functions. It is a rugged tool that every professional will appreciate. What makes the Warrior completely unique is its ability to transform from a utility knife to a utility saw with a twist of the wrist. Available in fixed and lock-back models, the Warrior easily changes from utility knife to hand saw with nothing to unscrew and no pieces to keep track of. Just switch it, click it and you're ready to go. You can use almost any manufacturers' utility blade and any standard reciprocating saw blade. The Rapid Shark and the new Big Bite Shark are pro­fessional-quality utility knives that include a multifunction wire stripper.
New Configurable Counter Displays
Rapid Tools offers a special counter top display that is available only to distributors. With its sliding hang pegs, the display offers an infinite variety of options for showing off the uniquehand tools that pros want, and lets dealers order low minimum quantities to prove it, for a very low initial investment.
It's easy to imagine how many uses, how much saved time and howmuch value the Warrior will add to any toolbox. Quality and rugged design mean you can go places you've never gone before, and do jobs easier and faster. The fixed-style Value Pack (shown) comes with 5 Rapid serrated-edge utility blades, a premium drywall saw blade, 8-inch general purpose saw, 6-inch hacksaw and blade case – all for under $25 retail. Plus, the Warrior will accept most of the reciprocating blades everybody has already.