Stanley FatMax Graphite Hammers

With 70% Larger Strike Face, design improves performance and durability.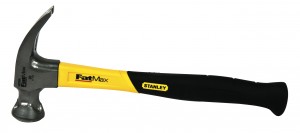 Stanley's new line of graphite hammers have oversized strike faces for improved performance and durability. Chris Woolley, leader of the company's Assembly & Demolition Strategic Business Unit said, "The FatMax line of graphite hammers introduces a new strike face technology that improves the user's performance.
It also provides a more durable design that withstands the daily abuses that hammers typically endure." Its most notable feature is a forged oversized steel head touting a bigger sweet spot, which users celebrated when Stanley took initial prototypes to field. Woolley explained, "100% of respondents preferred this feature over traditional hammer strike faces, which is why we are confident that the line of two new hammers will be well received by the market."
The FatMax graphite hammers feature a 70% larger strike face, when compared to traditional hammers, for improved striking accuracy (a patent-pending feature). They offer a dual tempered head rim to help reduce steel chipping and spalling.
Another key feature for added durability is the lightweight graphite core handle, complemented by overstrike protection to strengthen the handle. These hammers provide a patented head-to-handle assembly to ensure that the head is attached securely to the handle for long-life performance and durability.
Stanley engineers designed the new line of FatMax graphite hammers with the understanding that comfort is a key factor. This is why they included an ergonomic rubber grip that maximizes comfort and minimizes fatigue. The handles offer a ribbed design and flared grip to prevent the hammer from slipping from the user's hand during use.
Currently available at home centers, construction supply stores and on the web, the new line-up of FatMax graphite hammers includes the following models and approximate retail prices:
Model 51-505 – a 16 oz curved claw, smooth face hammer 13" long (ARP = $14.99)
Model 51-508 – a 20 oz rip claw, smooth face hammer 13" long (ARP = $17.99)
For more information about these or any other Stanley tools, users can visit www.stanleytools.com or call 1-800-STANLEY.