BernzOmatic QUICKFIRE Torch and Quick Connect Gas Cylinders
New High-Performance Torch Features Compact Profile, 30% Faster Soldering Time and QUICK-START Trigger Igniter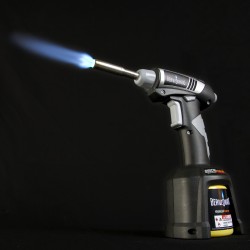 BernzOmatic introduces QUICKFIRE, a new high-performance torch that is a must-have in every professional's and serious DIYer's toolbox. The new QUICKFIRE torch is not only clearly different in its appearance, but also it offers benefits that outdistance every other torch in the handheld torch category.
More than a mere "step-change," the new QUICKFIRE torch features advancements in torch technology that will appeal to trade professionals and serious home improvement enthusiasts, alike:
• Compact profile — the visual appearance of the new QUICKFIRE Torch is striking, bringing to mind the look of a cordless drill more than a traditional torch. With a 40 percent height reduction, the QUICKFIRE's design adds maneuverability and control in tight spaces for multiple applications.
• 30% faster soldering time — featuring a high-intensity swirl flame, QUICKFIRE provides a hotter, more efficient flame for 30 percent faster soldering time. This high-performance torch also has an adjustable flame control for accuracy and precision, delivering the highest heat output in its category.
• QUICK-START — the QUICKFIRE's instant on/off trigger equates with efficiency and ease. QUICKFIRE's speedier performance on the jobsite translates into more productivity . . . and more revenue for the trade professional.
• QUICK-CONNECT Cylinder — compact and efficient, the QUICK-CONNECT cylinder is ready to go with only a quarter turn, and the revolutionary new canister fits all torches on the market. One cylinder provides enough fuel to solder 200 fittings—enough to plumb an entire house. QUICK CONNECT uses Max Power Propylene fuel, which is 20 percent hotter—and faster—than propane fuel.
The new QUICKFIRE torch will be available for distribution nationally to all major home center channels this Fall, with QUICKFIRE's MSRP set at $69.99 and replacement QUICK-CONNECT cylinders priced at $6.99.