Portasol GT220 professional butane torch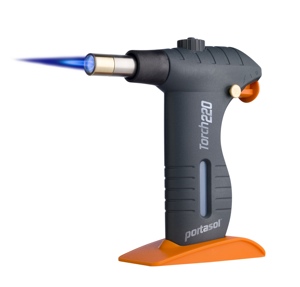 Portasol's GT220 Professional Butane Torch for professional users is portable and easy to use. There are no cords or wires – it's completely powered by butane. Just one tank-full of butane will run this torch for up to 60 minutes at mid-setting. It is a medium-power butane torch that provides a flame temperature up to 2,462 degrees F and an adjustable flame length up to 90mm (2-1/2 inches).
The flame is wind-resistant so the torch can be used inside or out-of-doors. It's ready to melt solder in less than 30 seconds from the time you turn it on. The ultrasonically welded gas tank provides a safer, more reliable butane torch than you'll find elsewhere. The all-in-one on/off/ignition switch makes it fast and easy to use.
The GT220 is a great tool for soldering joints and brazing components. It can also be used to heat-shrink tubing, strip paint, heat or bend thin metal, and loosen frozen or rusted nuts and bolts. Use wherever you need a medium power flame for a short period.
"The GT220 Torch is versatile and quite handy for the professional or DIYer. It's portable, safe, easy-to-use and provides a lifetime of use," says Sandy Allen, Portasol National Sales Manager.
It is certified ESD-safe and is anti-static. Every Portasol product is made with butane compatible plastics to prevent leakage. When the manufacturing process is complete, each Portasol tool is tested for a full two weeks before they are packaged and sold to the U.S. market.
Portasol is a registered trademark of Oglesby and Butler Limited. Portasol products are manufactured in Ireland and distributed throughout the U.S. from our distribution center in Chicago, IL. For more information, please see our website at www.portasol.com or contact Sandy Allen, National Sales Manager, at 541-953-0679.