TASK Tools Bamboo Hammers
TASK Tools' new FSC certified bamboo hammers use bamboo handles that are certified by the Forestry Stewardship Council to be 100 percent from well managed forests.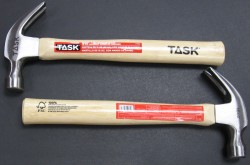 Bamboo is harder than oak and has a greater tensile strength than steel, making it an ideal material for hammer handles. Bamboo is also sustainable because of its ability to grow rapidly – up to 18 inches in a 24 hour period.
"TASK Tools is committed to supporting environmental sustainability, and that is why this new product line is so exciting", said Chris Waldner, Senior Product Manager for TASK Tools. "We can make better environmental decisions without compromising on product quality or features."
The Bamboo Hammers come in two sizes; 8 and 16 ounces, and have suggested retail prices of $7.99 and $9.99 respectively.
Founded in 1968, TASK Tools is a family owned and operated business that provides quality products, exceptional customer service, innovative merchandising solutions, and the industry's best warranty support to hardware and building supply retailers across North America. The company has two brands, TASK and Tuf-E-Nuf, which sell in five comprehensive product categories - power tool accessories, hand tools, abrasives, worksite accessories, and cargo security.