Walkstool, the walking, telescoping work stool for anywhere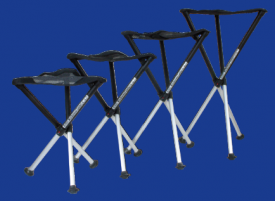 Meet the stool that walks. It follows you wherever you go and isn't too big to carry in your bag — it simply folds away.
The Walkstool helps to protect your back, knees and joints. There are plenty of testimonies to that. Don't squat when you're working — sit on a Walkstool. You'll protect your knees, back and joints.
Walkstool is recommended by physiotherapists who understand the serious problems faced by plumbers, electricians and others forced to work in uncomfortable positions. When working at low heights, simply sit on Walkstool without extending the telescopic legs.
Walkstool is available in a variety of seat sizes and heights, each of which is adjustable to two heights.
Try one: our basic models have a capacity from 330 to 385 pounds. Comfort models range in capacity from 440 to 550 pounds, yet weigh just 32 ounces.
Walkstool also makes an excellent present — start by treating yourself to one.