April/May 2015 print edition of Contractor Supply magazine
The following selected stories appeared in the February/March 2015 issue of Contractor Supply magazine.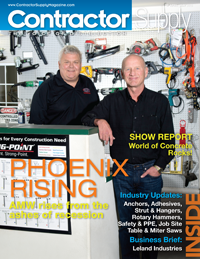 Cover Story: Phoenix Rising
Phoenix-based AMW Construction Suuply was born from the ashes of recession.
STAFDA News: April - May 2015
Business Brief: Leland Industries
Show Report: World of Concrete 2015
Human Assets: Ken Carroll, Chally Group
The trouble with personailty tests in hiring.
Plus, in the print edition: Industry Updates on Adhesives & Sealants; Anchors, Job Site Table, Miter and Chop saws, Rotary Hammers, Safety and PPE, and Strut and Hangers.