February/March 2012 print edition of Contractor Supply magazine
The following selected stories appeared in the February/March 2012 issue of Contractor Supply magazine.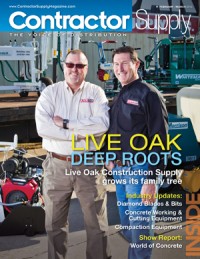 Cover Story:
Live Oak, Deep Roots
Live Oak Construction Supply grows its family tree.
STAFDA News February/March 2012:
STAFDA's Educational Extravaganza

Show Report: World of Concrete 2012
Good vibrations and great expectations reign at the concrete industry's annual bellwether event.
Special Report: The Solar Industry 2012
The outlook: partly cloudy with a chance of rain.
Cashflow Consultant: Abe WalkingBear:When Salespeople Become Bread Men, part 1
Inventory Consultant: Jon Schreibfeder: Cycle Counting