February/March 2014 print edition of Contractor Supply magazine
The following selected stories appeared in the February/March 2014 issue of Contractor Supply magazine.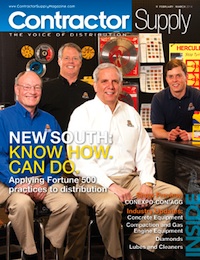 Cover Story: New South: Know How. Can Do.
What happens when you apply Fortune 500 best practices to a mid-sized distribution company? Visit New South Construction Supply and see.
STAFDA News: Feb - March 2014
Trade Shows: World of Concrete 2014
Operations: Jason Bader
Developing a great team means developing inspired individuals.
Business Intelligence: Brent Grover
Cutting Big Data down to size.