February/March 2015 print edition of Contractor Supply magazine
The following selected stories appeared in the February/March 2015 issue of Contractor Supply magazine.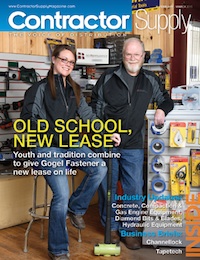 Cover Story: Old school, New lease on life
Industry icon Mike Terrell cements his legacy with a distributorship for his next generation.
STAFDA News: Feb - March 2015
Business Brief: Channellock
Now in its fifth generation of family leadership, Channellock tools have been "Fiercely Made in Meadville" for over 130 years.
Business Brief: TapeTech
TapeTech automatic drywall taping tools dramatically improve productivity for contractors and profit margins for distributors.
Equipment Security: From under your nose
Stolen asset recovery systems offer home for equipment owners.
Mergers & Acquisitions: Why mergers fail
Why 70 percent of M&A deals don't achieve expected results.
Crisis Management: Keeping your head
Exercise your crisis decision-making skills — before you need them.
Human Assets: Rethinking employee retention
Seven guidelines for engaging and accommodating your older staff.