Measuring: Bostitch clamping levels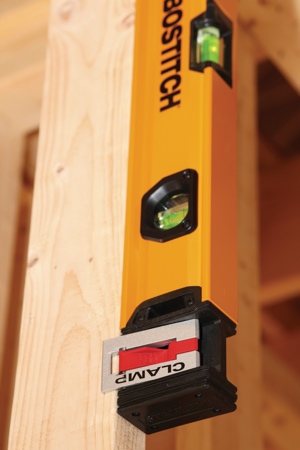 Hands-free operation for contractors.
Bostitch has announce the world's first line of clamping levels – models 43-723 and 43-727– which offer the distinct advantage of a hands-free operation while positioning wood to a level or plumb setting.
The world's-first feature that sets this product apart is an integrated clamp design that grabs the work with aggressive teeth for hands free use. The clamps are driven by inter-wound torsion springs for an unprecedented lockdown onto the work-piece. The new clamping level can accommodate 2X dimensional lumber (1-1/2") as well as 4X dimensional lumber (3-1/2") for a variety of residential and commercial construction applications.
With a box beam body constructed from aluminum, these units incorporate a bridged center vial for a continuous marking surface. An additional benefit of this feature is an open line-of-sight to the center vial for reliable measurement every time. They also feature a heavy-duty profile for added stability. For example, traditional levels feature a profile between 1-1/4" to 1-1/8"; however, the new Bostitch clamping levels tout a thick body design of 1-1/2" to prevent tip-over and help stabilize measurements.
Engineers designed the block vials to ensure an accurate read is always achieved, regardless of the angle from which you view the bubble. This is why Bostitch machines its leveling lines (or graduations) on the inside of the tubes (or barrels) of the vials. This special machining process prevents parallax distortion that occurs when viewing an object from a challenging angle.
The clamping levels offer solid acrylic block vials for impact-resistance and long-term accuracy. Unlike many competitive products, Bostitch uses an epoxy to connect the vials to a structural column located on the bottom of the block so that the level continues to perform reliably over time, despite the rigors of day-in/day-out use. The new levels also feature shock absorbent end caps for added protection to the high-wear areas of the level. As part of its new hand tool launch, Bostitch is offering a 100-year limited warranty on its complete line of hands tools (pneumatic tools, compressors, and accessories fall under the previous warranty).
The new 24" clamping level (model 43-723) is expected to sell for approximately $59.99, and the 48" lighted level (model 43-747) is expected to sell for approximately $79.99.