Measuring: Stanley LED Levels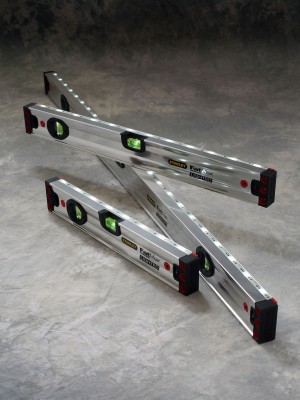 Stanley announces the world's first line of lighted box beam levels – models: 43-518, 43-527, and 43-552.
During its new product introduction at the Westin New York Hotel, Stanley product manager Ian Kilgour said, "Reading the vials on a level is extremely difficult if you are in a dark area of a jobsite that doesn't have adequate lighting."
Often times, even the slightest misread can lead to visible – and costly – mistakes that must be re-worked. Such applications include finish & trim, bathroom tile, hanging mirrors, etc.
The vials and utile surface of the levels light up and even illuminate the work area to provide superior visibility in low-light situations thanks to L.E.D. technology (patent-pending).
Users can activate and/or deactivate the lights by simply pressing on/off switch, which is recessed to prevent inadvertent activation and battery drain.
The new lighted levels are available in three lengths – 16" (model 43-518, currently available), 24" (model 43-527, coming in September), and 48" (model 43-552, also coming in Septmber) – for a variety of applications. All three units are powered by three AA batteries each for up to 60 hours of light.
The patented Max Edge Bridge provides a continuous marking surface as well as an open line-of-sight to the center vial for reliable measurement every time. The engineers at Stanley® designed the block vials to ensure an accurate read is always achieved, regardless of the angle from which you view the bubble.
This is why Stanley machines its leveling lines (or graduations) on the inside of the tubes (or barrels) of the vials. This special machining process prevents parallax, otherwise known as the distortion that occurs when viewing an object from a challenging angle.
With its body constructed from aircraft-grade aluminum, the lighted levels offer solid acrylic block vials for impact-resistance and long-term accuracy. Unlike many competitive products, Stanley uses an epoxy to connect the vials to a structural column located on the bottom of the block so that the level continues to perform reliably over time, despite the rigors of day-in/day-out use.
The new levels also feature shock absorbent end caps for added protection to the high-wear areas of the level. Stanley uses high-strength rare earth magnets to provide twice the holding power of traditional magnets to ensure the level stays firmly affixed to metal surfaces such as pipes, beams, grates, and bars.
Currently available at home centers, construction supply stores, and on the web, the new line of lighted levels are expected to sell for the following approximate retails prices: the 16" lighted level (model 43-518) is expected to sell for approximately $19.99; the 24" lighted level (model 43-527) is expected to sell for approximately $29.99, and the 48" lighted level (model 43-552) is expected to sell for approximately $39.99.
For more information, visit www.stanleytools.com or call 1-800-STANLEY