Measuring: Bosch GLR500 and GLR825 laser range finders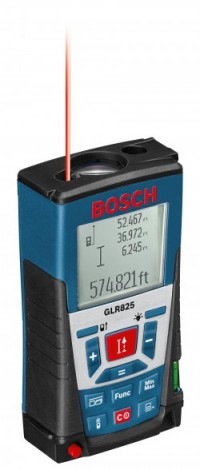 Bosch Measuring Tools, pioneers in the development of some of the world's most compact and accurate laser range finding tools, will soon introduce two more additions to its award-winning lineup. Building on Bosch's proven short- and medium-range platforms, the company is entering the long-range laser measuring category with two innovative laser distance measuring tools – the GLR500 and the GLR825.
Capable of quickly and accurately measuring in 11 different modes over extended distances (825' for the GLR825, 500' for the GLR500), Bosch's new range finding tools are perfect for builders, architects, construction supervisors, building engineers, finish and trim carpenters, project estimators, inspectors, plumbers, electricians, appraisers and even police departments investigating accident and crime scenes.
And, even over extended distances, both tools are accurate to within 1 millimeter (0.04inch). That means users of all types can measure with confidence in any application.
As with previous models, such as the DLR165 and the GLR225, Bosch's new laser distance measurers offer users the flexibility of measuring from one of four distinct points – from the front or back of the unit, from the integrated tripod mount or from the multi-functional extension pin, perfect for measurements from corners or inside channels.
New to the GLR500 and the GLR825 is the capability of delivering 11 distinct types of measurements, versus seven modes on the GLR225 – length, area, volume, minimum/maximum, continuous, indirect length , double indirect, combined indirect, stake out, trapezoid, multi-surface area and timed measurement.
To help users keep track of all of those measurements, both tools have enough built-in memory to store up to 30 individual measurements and results.
With a maximum range of 825 feet, Bosch's GLR825 features a 1.6x magnification viewfinder for precision laser sighting in long-range or outdoor applications, even in brightly lit environments.
The intelligently designed keypad puts the most common functions right at the user's fingertips, while the large, illuminated display lets users easily monitor and keep track of all measurements, modes and calculations.
Like all Bosch measuring products, the GLR500 and GLR825 are built to last. A glass lens and ceramic optics carrier are utilized for maximum durability. And both units, including their battery compartments, are IP54 protected against dust and water. Bosch's GLR500 and GLR825 also feature rubber-padded surfaces to ensure a secure grip and to protect the units from damage due to drops.
Bosch's GLR500 and GLR825 come complete with a soft belt-loop case, a hand strap and four AAA batteries. Optional accessories include Laser View-Enhancing Glasses (DLA001) and a Laser View-Enhancing Target (DLA002).
The GLR500 and GLR825 will be available this July through authorized Bosch distributors nationwide. To find out more or to find a local dealer, users may visit www.boschtools.com or call 877-BOSCH-99.