Blades: Starrett Dual Cut Jig Saw Blades
Starrett Dual Cut jig saw blades provide clean cuts on both sides of the work-piece.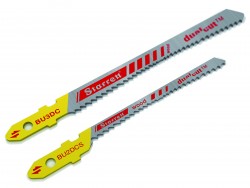 The L.S. Starrett Dual Cut is the first jig saw blade with teeth that cut in both directions, virtually eliminating burrs from both sides of the cut. Starrett Dual Cut jig saw blade's exclusive design ensures faster and more precise cuts.
Two Dual Cut blades are available. The larger BU3DC is for straight and curved cuts in material between 1/4" and 1-1/8" (6 and 30 mm). The smaller BU2DCS is for cut-outs, contours, and more complex cuts in material between 5/32" and 3/4" (4 and 20 mm).
Dual Cut is well suited to cutting fiberboard, laminates, mixed material, soft woods, hardwoods, and coverings in general. It is ideal for furniture manufacturers and general woodworking.
"Dual Cut's patented bi-directional tooth configuration ensures precise cuts with minimal burrs on both sides of the work-piece. In addition to cleaner cuts, Dual Cut minimizes wasted material by reducing overall scrap," according to Bill Power, Vice President of Sales and Marketing, Construction Division.
Starrett Dual Cut blades incorporate two other proprietary Starrett technologies – Unified Shank and bi-metal unique. Unified Shank jig saw blades are the only blades that fit both universal and Bosch shank jig saws. The bi-metal unique manufacturing process provides an extra strong bond between the high speed steel and backing material. They resist breakage, cut faster and last longer than conventional blades.