Blades: Arcus Curve-cutting Steel Blade
Cut curves and circles in steel with a circular saw.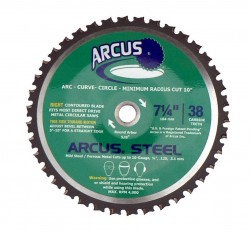 The long-awaited Arcus steel cutting blade is ready. This new generation steel cutting 7.25-inch circular saw blade cuts curves and circles in steel using a metal cutting circular saw. The same contoured shape of the Arcus Wood and Masonry blades for cutting circles and curves in wood and has progressed to the metalworking industry.
Use the New Aluminum Compass Guides and Pivot Point for steel with the Arcus Steel Cutting Blade for precision cuts and longer blade life. Plunge cutting can be done in steel with the New Aluminum Compass Guide that comes in four sizes, from a radius of 10- to 20-inch diameter circles. The unique contoured blade has U.S. and Foreign Patents Pending.

This new cutting method is ideal for steel fabricators, welders, millwrights, ironworkers, auto body shops, steel roofing contractors and metal sculptors.
The Arcus cutting method is efficient and results in cuts that require no grinding or cleanup before welding, saving time and creating less impact on the environment. Unlike other methods such as torches and plasma cutters, the Arcus Steel Cutting Blade does not create fumes when it cuts, making it more environmental friendly. Laser cutters and grinders require much more electricity to perform the same cuts.

The Steel Cutting Blade can be used freehanded to make cuts curves and circle cuts from a 10 inch radius and larger. The Arcus Steel Cutting Blade is 7.25 inches in diameter with 38 carbide teeth. The New Aluminum Compass Guide and Steel Pivot Point is recommended for precision cuts that ensure a longer blade life and comes in four sizes.
The Arcus Steel Blade may be used freehanded for those small quick curve cuts when precision is not necessary. The blade's contoured design makes it 1/4-inch "tall" when lying flat, so check that your saw has enough clearance to avoid blade rubbing when mounted. Not all metal cutting saws have that much clearance.

The Arcus Cutting System allows blades to be used freehanded or by adding the compass guide with different pivot points to cut basic or precision curves and circles depending on the needs of the users. Different Arcus system blades can be used with a circular saw in wood, metal and concrete to cut circles or curve cuts right on the jobsite professionally and inexpensively.