Blades: DiamondX Cutter Wheel for Metal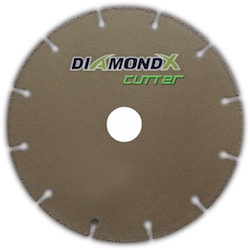 DiamondX introduces the all-new DiamondX Cutter, a thin-cutting diamond wheel that is designed to cut a variety of metal applications, including steel and stainless steel sheet, plate, bar, pipe, section and angle iron. It can also cut many other materials, such as PVC, copper pipe, composite materials, fiberglass and wood.
The DiamondX Cutter will last many times longer than conventional abrasives. Depending on the application, the DiamondX Cutter will make more cuts than 30, 50, 100 or even 200 abrasive discs. This means greater efficiency and less time changing out worn abrasives.
The DiamondX Cutter, like all products from DiamondX, is manufactured from steel and diamonds, which provides inherent benefits when compared to conventional abrasive wheels. Since the core is made of steel, debris and odor are greatly reduced, making the working environment safer and more eco-friendly. It is much more durable than conventional abrasive wheels, and is not effected by wetness and much more resistant to shock damage caused by drops.
The DiamondX Cutter is available in 4, 4.5, 5, 6, 7 and 9-inch diameters. The 4-, 4.5-, 5- and 6-inch wheels are just .05 inches thick; the 7- and 9-inch wheels measure just .06 inches thick.