Professional Measurement: Klein Tools Scout Pro 2 Series Cable Tester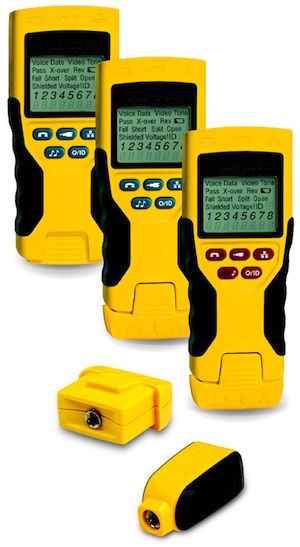 Klein Tools advances its Voice/Data/Video (VDV) product line by offering the new Scout Pro 2 Series of cable testers. The Scout Pro 2 is a multi-functional tester that tests voice, data and video connections. It also locates cable runs with location ID remotes, supports multiple tones to decipher wires and can measure cable length to a fault, on a reel or in a box.
Scout Pro 2 is compatible with Klein Tools' new Test-n-Map remotes which save time by testing, mapping and identifying a location in a single step. By utilizing the tester and remotes together, the Scout Pro 2 Series will reduce installation verification time by up to 50%.
The Scout Pro 2 Series Cable Tester:
• Tests continuity on voice (RJ11/12), data (RJ45) and video (F-connector) connections
• Indicators include: miswires – wiremap, opens, shorts, split pairs
• Locates cable runs to wall outlets with location ID remotes
• Supports multiple tones and control of pins carrying tone with integrated tone generator
• Measures cable length in feet or meters (LT models only)
• Compatible with single-step Test-n-Map™ Remotes
Test-n-Map Remotes:
• Test, map and identify a location in a single step
• Cut testing and identification time in half
• Test and identify up to eight locations at once
• Compatible with all Scout Pro 2 Series testers
• Compatible with Scout Pro LT testers
The Scout Pro 2 Series offers a variety of kit options:
• VDV Scout Pro 2 Tester Kit (Cat. No. VDV501-823)
• VDV Scout Pro 2 Tester & Test-n-Map Remote Kit (Cat. No. VDV501-824)
• VDV Scout Pro 2 LT Tester & Remote Kit (Cat. No. VDV501-825)
• VDV Scout Pro 2 LT Tester & Test-n-Map Remote Kit (Cat. No. VDV501-826)
• VDV Scout Pro 2 Test-n-Map Remote Kit (Cat. No. VDV770-827)
"With voice/data/video projects, there are a vast number of wires that have to be identified, mapped and tested to make sure the job is installed properly. This takes an enormous amount of time going back and forth to check wire location IDs and then going back a second time to test that same wire," states Chris Niklas, product manager at Klein Tools. "The Scout Pro 2 Series cable tester, along with the new Test-n-Map™ Remotes, cuts that verification process in half which saves both time and money."