Measuring: Spectra Precision Grade Lasers Feature Wireless Remote Control
Maximum Versatility in Leveling, Grading and Vertical Alignment with Plumb for General Construction Applications.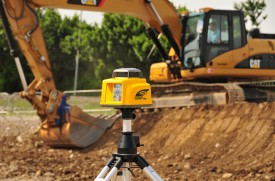 Trimble introduces the new Spectra Precision GL512 and GL522 Grade Lasers. The versatile lasers are rugged, cost-effective and can perform three types of jobs for the construction contractors—level, grade, and vertical alignment with plumb.
The Spectra Precision GL512 (single-grade) and GL522 (dual-grade) lasers offer fast, easy horizontal level, grade, and vertical plumb setup with no manual leveling. The GL512 and GL522 Grade Lasers send a continuous, self-leveled 360-degree laser reference over an entire work area. They feature a wide grade range of -10 to +15 percent, so they can be used for a variety of slope applications. These extremely rugged lasers can withstand a drop of up to 1 m (3 ft) directly onto concrete.
Both lasers feature a two-way full-function remote control with built-in backlit grade display. This allows the contractor to do everything with the remote control they can do with the laser keypad, up to 100 m (330 ft) away from the laser—even from the cab of the machine. The ability to make grade changes from anywhere on the job greatly reduces setup time and speeds operation, especially when multiple job grade breaks are needed.
The GL512 and GL522 laser packages include the new Spectra Precision Laser HL750 Laserometer that can be used at an operating diameter of up to 800 m (2,600 ft). Wireless communication between the HL750 Laserometer and the transmitters provide automatic Grade Matching which allows measurement of unknown grade values between two points. PlaneLok is also available in both the horizontal and vertical planes. PlaneLok automatically locks the beam on the receiver and keeps it on grade. This reduces typical environmental factors that may induce an error. Additionally, the HL750 Laserometer can communicate with another HL750 for long-range wireless remote display and monitoring.
Additionally, the GL512 and GL522 self-plumb in the vertical position to accommodate an even wider range of applications, such as anchor bolt installation, plus form, tilt up, and curtain wall plumbing. Both units also incorporate automatic temperature and grade compensation for high accuracy in any weather or geographical location.
On both models, the laser beam can be turned off electronically on up to three selectable sides. This capability eliminates interference with other crews on the job site by keeping the beam from straying into other work areas.
The Spectra Precision GL512 Single Grade Laser and GL522 Dual Grade Laser are available now through Trimble's Construction and Construction Tools dealer networks.