Generators: Briggs & Stratton 8-10 kilowatt Standby Generators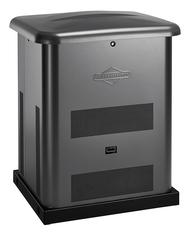 Engineered to provide an affordable backup power solution that can power a home's basic circuits and small appliances, the new Briggs & Stratton 8-10 kilowatt Standby Generators feature more power in a smaller package.
"Our new 8-10kW Standby Generator is an affordable option for families fed up with letting power outages interrupt their life," said Amanda Grandy, marketing manager for Briggs & Stratton. "Its compact design gives home owners more placement options and its powerful Briggs & Stratton engine helps ensure all of the home's basic appliances are covered by backup power."
With placement options potentially as close as 18 inches from the home, the 8-10kW unit is compliant with the National Fire Protection Agency 37 standard. This makes it a natural fit for homes with small properties or tight lot lines. Flexible placement options also make standby generator installation easier and more affordable.
While small in stature, the compact 10kW standby generator has one of the highest power outputs per square inch of footprint in its kW class. The 8kW generator is powered by a premium Briggs & Stratton engine newly designed for standby generator applications to deliver improved reliability, performance and durability during a power outage. Powered by a commercial-grade Vanguard engine, the 10kW generator is designed to dependably take on the most demanding jobs.
The unit's enclosure is made from the same rust-resistant, durable Galvanneal steel that is found in the automotive industry and features an advanced powder coat paint process which results in protection against chipping and abrasions.
An optional Basic Wireless Monitor makes simple, trouble-free monitoring of the standby generator a reality for homeowners from the comfort of their home. A 3-year limited parts and labor warrant² places an emphasis on customer service.