Generators: Kohler 30REZGT Propane-powered Mobile Generator
New 30REZGT model now also included in PERC's Propane Heat & Power Incentive Program.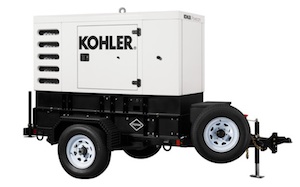 Kohler has expanded its mobile generator product line with the addition of a fourth model that is able to run on clean, efficient propane — the 30REZGT. Like its predecessors, the 50REZGT, 70REZGT, and 125kVA, this latest generator model was developed in cooperation with the Propane Education & Research Council.
The 30REZGT (30 kVA) features a 3-liter industrial powertrain engine. Like Kohler's earlier propane-powered mobile generator models, the 30REZGT includes an onboard LP tank that offers up to 24 hours of run time when the generator is used at sites without a dedicated propane supply. Operators can switch to an on-site propane supply when one is available.
According to Bridget Kidd, PERC's director of residential and commercial programs, Kohler's mobile generator product line allows consumers and professionals in a wide variety of markets to experience American-made propane's many unique benefits.
"These mobile generators can provide the rental, commercial, construction, and utility sectors with reliable back-up power in virtually any situation," Kidd said. "And, because the generators can run on clean, cost-effective propane, they also offer optimum performance and power while ensuring a cleaner, safer environment."
Because propane burns more cleanly than diesel, Kohler's new propane-powered mobile generators produce fewer emissions, toxins, and smog than diesel models. Furthermore, when using these mobile generators on a jobsite, there's virtually no risk of groundwater contamination because propane vaporizes at atmospheric pressure.
PERC is making Kohler's new propane-powered mobile generators an even better value through its Propane Heat & Power Incentive Program. This program is a nationwide research initiative designed to encourage construction professionals, businesses, and homeowners to adopt new, energy-efficient, propane-powered products. Professionals who purchase any of the four qualifying Kohler mobile generator models are eligible to receive incentives ranging from $1,000 to $8,500 in exchange for supplying PERC with their feedback. Learn more at buildwithpropane.com/heatandpower.