Generators: Atlas Copco QAS 45 Tier 4 Generator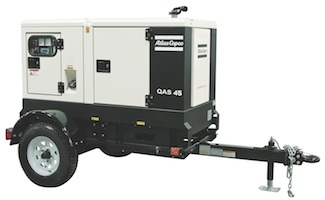 Atlas Copco Portable Energy packs a great amount of power into its heavy-duty QAS 45 portable generator. The unit features an Isuzu 4LE2X engine and a diesel oxidation catalyst (DOC) to achieve Tier 4 Final emission levels. The QAS 45 is rated for 45 kVA of prime power for applications such as construction, oil and gas, rental and large events.
The QAS 45 generator is designed for predictable power and optimal operation with its reliable alternator, large fuel tank and simple control panel. The unit is equipped with a dependable Leroy Somer AREP alternator for superior motor starting capabilities.
It also features a 72.5-gallon fuel tank for run times as long as 30-hours under typical loads.
DeepSea 4510 controls are comfortable, reliable and easy to use. The backlit display shows all critical machine information, which can be viewed through a rugged, clear viewing panel in the door. The generator controller features remote start capability and all functions are set with warning and showdown safety limits that can be easily customized by the user.
The generator has high versatility with its standard voltage selector switch that allows operators to adjust the machine's output to 480/277, 208/120 and 240/139 volt 3-phase settings, as well as 120/240 volt single phase for varying applications and equipment. This versatility gives users greater flexibility on jobsites and can increase utilization at rental centers. Operators can lock the front panel voltage adjust potentiometer to prevent unintentional adjustments to the voltage, which can cause overheating or equipment damage.
In addition, the QAS 45 features two 120vac GFCI duplex receptacles that are always powered, so contractors can operate small hand tools while running larger loads.
The QAS 45 ensures low decibel levels for use on noise-sensitive jobsites and residential areas with its sound-attenuated enclosure and a vertical radiator and exhaust discharge. The spillage free base-frame is sized for 110 percent containment of all the machines fluids and fuel, giving users confidence in the most environmentally sensitive areas.
The QAS 45 has one of the highest resale values in the industry due to its overall durability as well as the quality and dependability of its individual components. The QAS 45 is mounted on a durable frame and surrounded by a robust enclosure formed from galvanneal steel and powder coated for a long-lasting, scratch- and corrosion-resistant surface.
Maintenance was a key factor when the QAS 45 was designed. Large access doors and single side maintenance ensures that service downtime is kept to a minimum. The DOC after-treatment device requires no regeneration or maintenance. The engine meets Tier 4 Final emission standards without the need for diesel exhaust fluid or a diesel particulate filter system, thereby eliminating any maintenance for those systems.
Further, engine fluids are plumbed to the edge of the skid to eliminate the hassle of maneuvering pans into the interior space. And, the extended life filters have 500-hour service intervals resulting in reduced maintenance costs.
The QAS 45 comes equipped on a class-leading single axle trailer with robust tie-downs for safe transport on a flatbed. The unit also can be skid mounted for easy movement with a forklift. All units come with an integral standard single-point lifting eye in the enclosure for maneuvering with a crane, and is rated for lifting the complete genset with trailer and fuel.