Generators: Generac Protector Series Diesel Standby Generators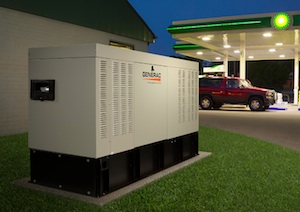 Natural gas and liquid propane (LP) have long been the standard in fueling automatic home standby generators. Generac rose to market leadership with its Guardian Series gaseous-fueled home standby generators. However, homeowners and small businesses occasionally lack easy access to either fuel. In response to this unmet need, Generac is launching the Protector Series, a simple, cost-effective, pre-packaged diesel-fueled automatic standby generator, in September of this year.
"It used to be that homeowners and small business owners without access to natural gas or LP had to invest in a complicated, costly diesel-fueled generator solution," said Jake Thomas, product manager, Generac. "The Protector Series, however, is practically ready right off the shelf. And it costs about 20% less than many competitive diesel-fueled units, so it's a great value. The Protector Series makes it easier for those needing a diesel-fueled generator to back up their home or business to invest in one."
The new Protector Series offers many of the same benefits of Generac's market-leading Guardian Series. It features the new Evolution Controller for easy monitoring and management of all generator functions. The Quiet-Test weekly self-test mode runs at a lower RPM for quieter operation and less fuel consumption. It comes standard with a 5-year limited warranty. And it is more attractive and takes up less space than other diesel-fueled generators.
More importantly, though, the Protector Series meets code requirements for optional standby diesel fueling and storage — unlike many competitive units. The integrated, double-wall base tank meets all applicable codes for optional standby power, and is UL/cUL 142 listed for venting and filling. It is also sized to provide 24-hour minimum run time at ½ load. The genset itself is UL/cUL 2200 listed.
To address additional local code requirements, Generac has a full suite of accessories available for dealers and installers. These include a five-gallon spill box and drain-back kit, tank risers, lockable fuel caps, and emergency stop kits.
The Protector Series is fully compatible with Generac's existing line of automatic transfer switches and Mobile Link™ remote monitoring. It is a simpler, safer, more cost-effective solution that provides more value than existing diesel-fueled generators.
Generac will be offering 15kW, 20kW, 30kW, and 50kW Protector Series nodes in both single- and three-phase configurations.