Air Tools: Parker Ultra-Lite SuperBraid Air Hose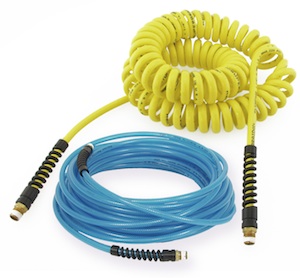 Ultra-Lite Superbraid polyurethane air hose from Parker Hannifin is 29% lighter than equivalent thermoplastic air hoses and 63% lighter than rubber air hose, making it ideal for roofing and hand-tool applications.
With the no-recoil feature, the hose will lay out flat even in sub-zero temperatures making it easy to work with. And the non-marring urethane jacket will not damage or scratch finished surfaces such as paint and furniture.
Ultra-Lite Superbraid utilizes a strain relief that allows the hose to bend freely without kinking at the fitting. Standard sizes range from 1/4" to 3/8" I.D and this product is available from the Parflex division in Ravenna, Ohio. Custom sizes and colors are available upon request.