Air Tools: PROTO Premium Air Impact Wrenches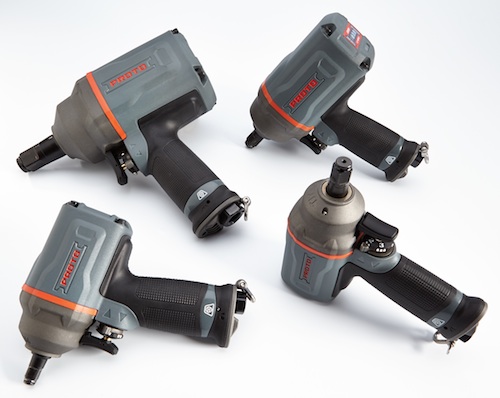 PROTO is pleased to announce the launch of a new line of premium air tools, developed specifically for the industrial market.
The new PROTO Titanium Series will offer four premium Pistol Air Impact Wrenches available in:
3/8" drive (J138WP -- shown above),
1/2" drive compact (J150WP-C),
1/2" drive industrial impact (J150WP) and the
3/4" drive heavy-duty impact (J175WP).
The new industrial air tools represent PROTO's commitment to providing solutions in the industrial market.
An innovative motor design reduces the number of parts needed and ultimately lowers the weight of the tool. They are constructed with a titanium front housing for reduced weight and maximum durability. This lower weight and higher break away torque results in the highest "power-to-weight-ratio" in the market place.
The impact wrenches also feature an air inlet 360-degree rotation for easy compressor hook-up and a titanium exhaust deflector for increased durability and muffler for reduced noise.
"The new PROTO Titanium Series Impact Wrenches are the most durable and powerful family of impact tools I've ever seen and are designed and built specifically for the industrial market," said Jeff Connell, PROTO Industrial Tools product manager. "Professionals require impacts that are not only powerful, but live up to the rigors of the industrial market. The PROTO Titanium Series will change the way technicians view impacts."
These new, exclusive PROTO impact wrenches were thoroughly tested and approved by industrial technicians in fleet repair, industrial assembly, teardown and repair facilities, mining and petrochemical sites, as well as heavy equipment repair centers.
Beyond power and torque, technicians and mechanics said ergonomics are essential when operating tools on a daily basis. The Titanium Series addresses this need. The impacts include a handle forward design for superior comfort and balance that reduces operator fatigue. A soft rubber grip delivers comfort during prolonged use. In addition, a one-hand power adjustment and forward/reverse systems enables the mechanic a free hand to hold fasteners and complete their job easily and more efficiently. A feather throttle offers maximum operator control over the power output.
For jobs that typically require a larger tool, the new line of Pistol Air Impact Wrenches delivers the same powerful results in a smaller package.
"I use the new 3/4" drive PROTO impact to tear down wheels where I used to use a Snap-on or IR 1" drive gun before," said Anthony Bridges, Wheel Repairman, who rebuilds and repairs ground combat and combat support equipment at Albany Marine Base. The lighter weight improves user comfort, resulting in greater productivity.
Each Proto Air Impact Wrench comes with a 2-Year Full Warranty and can be serviced by any of the 80+ DEWALT Factory Service Centers across the country.