Blades: Diablo Ultimate Flawless Finish Saw Blades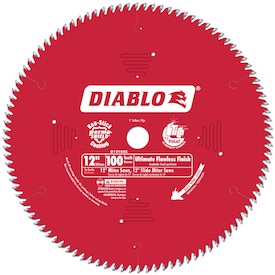 Diablo's Ultimate Flawless Finish 10- and 12-inch saw blades with Axial Shear Face Grind (ASFG) tooth geometry delivers precise, splinter-free cuts on fine molding with no rework required. These new blades include break-through innovation that allows the blade to effortlessly glide through material while providing the smoothest finish.
The new Ultra Thin Kerf feature enables portable job site saws to perform to the level of workshop stationary saws. The Ultimate Flawless Finish blades are ideal for cutting fine molding, veneered plywood, melamine and more.
FEATURES AND BENEFITS
Axial Shear Face Grind Design (ASFG) – Tooth face is angled to clearly shear through the material for a superior quality finish
Ultra-thin laser-cut kerf produces fast and effortless cuts and reduced amp draw (18% - 37%)
Precision shear point – High-degree alternate top bevel tooth geometry means less splintering and tear out
Perma-Shield coating - Non-stick, aluminum alloy coating produces less heat, gumming and corrosion.
TiCo Hi-Density Carbide – Specially designed carbide with Titanium & Cobalt delivers long cutting life­