Blades: Milwaukee Expands Utility Blade Line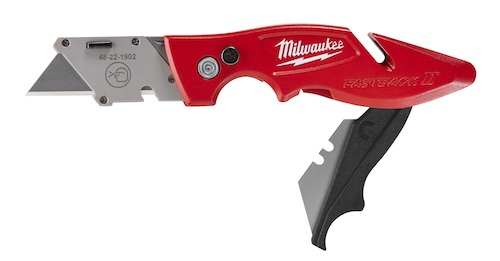 Milwaukee Tool continues to deliver user driven solutions and rapidly expand its Hand Tool offering with the introduction of several new Utility Blades. Made of micro carbide deposited metal, the new General Purpose Utility Blades deliver up to 3X longer life than standard carbon blades and are engineered with optimized blade geometries to deliver maximum cutting performance in a variety of applications.
Along with General Purpose Utility Blades, which maximize cutting performance and durability in most common jobsite materials, the new Milwaukee utility blade offering will include three unique blades that are optimized for specific applications: Hook Utility Blades, Drywall Utility Blades and Carton Utility Blades.
The Milwaukee Hook Utility Blade is able to deliver more pull force than competitive hook blades with an optimized geometry to cut roofing, synthetic wrap, insulation and other building materials.
The Milwaukee Drywall Utility Blade features optimized grind angles for 2X the sharpness and improved cutting precision in drywall and sheet material.
Lastly, the Milwaukee Carton Utility Blade features a round point to minimize the risk of cutting injury and protect contents in cartons and packaged goods.
Coming in June 2013, the new utility blades will be available in various pack size options. All bulk packs will include a patent pending blade dispenser for easy access to the utility blades and a safe storage solution for used blades.
General Purpose Utility Blades
5 Pack (48-22-1905)
50 Pack (48-22-1950); Storage Dispenser Included
75 Pack (48-22-1975); Storage Dispenser Included
100 Pack (48-22-1900); Storage Dispenser Included
Hook Utility Blades
5 Pack (48-22-1932)
50 Pack (48-22-1952); Storage Dispenser Included
Drywall Utility Blades
5 Pack (48-22-1933)
50 Pack (48-22-1953); Storage Dispenser Included
Carton Utility Blades
5 Pack (48-22-1934)
50 Pack (48-22-1954); Storage Dispenser Included