Stationary Tools: TigerSaw Ferrous Metal Saw and Feed System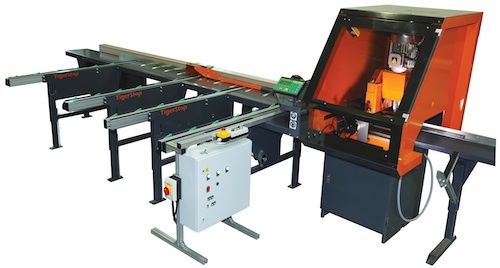 TigerStop will unveil TigerSaw Ferrous, a fully automated, heavy-duty, precision ferrous metal cut off saw and push feed system at the upcoming FABTECH show.
TigerSaw Ferrous features a robust column saw with mitering capabilities from 60° left to 45° right and TigerStop's highly regarded in-feed pusher system along with fully integrated and automated material handling options.
The system is designed to cut tube, pipe and bar stock up to 42 feet in length all while incorporating Dynamic Optimization. TigerSaw Ferrous sets a new standard in performance to value as machinery with similar features and specifications generally cost-out at over two times as much.
TigerSaw Ferrous Performance:
Cut from 60° left to 45° right
Material up to 42' (12.8 meters) in length
Pneumatic vertical material vice for positioning accuracy
Four speed blade rotation 15/30/45/90 rpm (optional 30/60/90/180 rpm)
Optional: fully integrated, pneumatic material loader and material off-load conveyor
"TigerSaw Ferrous combines efficiency and simplicity, all in a heavy duty system that will allow shops to fully automate – and truly optimize – their metal cut-off processes," says Spencer Dick, TigerStop founder and president. "Shops that incorporate TigerSaw Ferrous will see a dramatic increase in manufacturing efficiency and a greater profit margin."
See TigerSaw Ferrous at FABTECH in Atlanta - Nov. 11-13 in Booth B4139
TigerSaw Ferrous includes TigerStop's easy-to-use, highly intuitive operating system with an ergonomically, side-mounted touch pad that is perfectly situated for an operator to import or program cut lists as well as perform one-off operations.
TigerSaw Ferrous also features Dynamic OptimizationTM, TigerStop's proprietary nesting and optimizing program, a process by which random lengths of metal can be nested and optimized, on the fly, by the cut list of needed parts and the actual dimensions of the material placed on the system in-feed fence. TigerSaw Ferrous does this automatically which means that engineering staff no longer have to spend valuable time running nesting programs.
By automating and optimizing the cut-off process with the highly accurate, intuitive, easy-to-use TigerSaw Ferrous, manufacturers are able to reduce operator error, labor costs and materials costs while increasing cutting accuracy and greatly improving material yield.
Optional Features: Shops who choose to add in the features below will experience the benefits of whole-system automation, providing an operator environment and process that consists of simply bringing up a cut list and pressing start.
Automated Material Loading: Fully integrated with TigerSaw Ferrous controls and completely automatic, the pneumatic material loading feature automatically loads tube, bar and pipe stock onto the machine and into a cutting queue.
Material Off-load Conveyor: The angled outfeed table causes parts to slide down and out of the way, conveniently stacking them on its unloading bars as they come out of the saw and onto the table.
Label Printing: As TigerSaw Ferrous cuts, a label is printed for each part, making the operator's job even easier and speeding up the flow of materials to the fabrication floor.
To view videos and testimonials or to request a quote, please visit www.tigerstop.com or phone 360-254-0661.