Stationary Tools: SawStop Jobsite Saw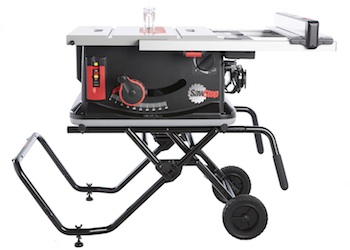 SawStop, LLC, the world leader in table saw safety, today announced the introduction of a new saw: the SawStop Jobsite Saw. This saw is the lightest, most portable and most affordable SawStop yet, and incorporates many groundbreaking features never before seen on portable table saws.
At the heart of the new Jobsite Saw is SawStop's contact detection technology. Just like other SawStop saws, the Jobsite Saw detects contact with skin on the blade, and stops and drops the blade in less than five milliseconds. Injuries are dramatically minimized and saw reset takes just a few minutes with a new blade and a new cartridge ($69 USD).
The Jobsite Saw also showcases multiple pioneering innovations that increase accuracy, save time and improve results. Key among these many innovations are the One Turn Elevation (other saws required over 25 turns) and the T-style fence with ErgoLock for easy operation, firm lockdown and improved accuracy.
With the included wheeled mobile cart, the saw weighs only 108 pounds (lighter than many other portable table saws, and by far the lightest SawStop yet).
SawStop inventor and President Dr. Stephen Gass commented on the new saw. "When we debuted our first saw over 10 years ago, we knew that the portable SawStop was not only possible, but essential to protecting saw operators. We also knew that the SawStop reputation demanded the highest quality, most innovative jobsite saw possible. I am very proud of our new saw. It's so much safer than anything else, but also improves the user experience in exciting new ways."
The SawStop Jobsite Saw will begin arriving in dealer showrooms in March, 2015, with a US list price of $1,299. For more information, visit www.sawstop.com/jobsite.