Stationary Tools: Malco MB48B "Pan Style" Mini-Brake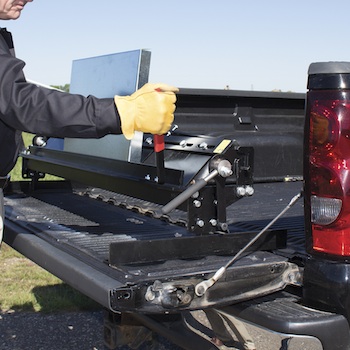 The Malco MB48B "Pan Style" Mini-Brake is designed to fabricate drip pans and register boxes, as well as complex angled corners for flashing and fascia, on the job. At just under 100 pounds (45 kg), it is carried comfortably by two people, or quickly separated into anvil and table components for one-person transport by removing just two hand-tightened screws.
The MB48B brake operates on a workbench, tailgate, or optional legs to produce up to 135° bends in 22-gauge (0.86 mm) galvanized steel up to 48 inches (1.2 m) wide.
A 5/16-inch (7.9 mm) plate-steel table apron and anvil frame, with an adjustable set-back and anvil strengthening ribs, ensures uniform bends.
Cam-over-center clamps keep the anvil secure in any position for safe operation.
For making pans and boxes, the full anvil is comprised of 16 movable, plate-steel fingers: Five 2-inch (50.8 mm); Six 3-inch (76.2 mm); and Five 4-inch (101.6 mm) fingers to create a maximum 48-inch (2.1 m) bending width.
Minimum bending width is limited to the 2-inch (50.8 mm) finger width. Anvil clearance allows a range of pan-height dimensions from 1/2 to 3-inches (12.7-76.2 mm).
No fixed throat depth also makes the MB48B ideal for fabricating large ductwork, flashing and fascia components. Go to www.malcotools.com to see a short, video demonstration of assembly and use of this versatile job-site tool.