Stationary Tools: TigerStop TigerSaw 1000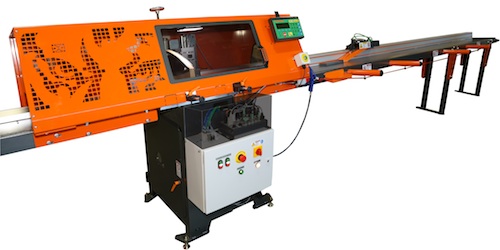 TigerStop's U.S.-made TigerSaw 1000 is a fully automated and integrated cross-cutting solution for aluminum and other non-ferrous metals. It features a heavy-duty build, 18-inch saw with a best-in-class cutting envelope paired with an accurate, powerful pusher system for single piece flow or pack sawing applications up to 26 feet.
TigerSaw 1000 uses Dynamic Optimization, automated lineal cutting software that makes the system extremely efficient, fast and precise, as well as a lube mister and flow controls for controlled saw-stroke cycle and superior cut quality.
TigerSaw 1000 performs cross cutting automation and material optimization functions usually only attributed to larger systems, which cost hundreds of thousands of dollars.
"TigerSaw 1000 allows shops to start optimizing and defecting raw materials themselves," says Spencer Dick, TigerStop founder and president. "This significantly decreases their raw material and labor costs, including time spent calculating how to maximize their materials usage per job or per multiple cut lists."
TigerSaw 1000 Performance
+/- 0.006" (+/- 0.15mm) positioning accuracy
240 strokes per minute – variable
Large cutting envelope
TigerSaw 1000 automates the entire cross cutting process with a computer-controlled system that is accurate, intuitive and easy to use. It features Dynamic Optimization, TigerStop's proprietary nesting and optimizing program, a process by which random lengths of metal can be nested and optimized, on the fly, by the cut list of needed parts and the actual dimensions of the material placed on the system in-feed fence. TigerSaw 1000 does this automatically which means that engineering staff no longer have to spend valuable time running nesting programs.
TigerSaw 1000 Features:
Automatic and optimized length cutting
Pack sawing of multiple parts
Requires no more machine space than already dedicated to cross cutting
Download cutting bills directly from the office
Simple and intuitive interface
Lube mister cools the saw blade which results in a fine, finish cut of the part
Flow controls for fine tuning the saw stroke cycle for cut quality and blade longevity
Comes Standard with the powerful and flexible Dynamic Optimization
Optional Features:
TigerTouch: Third generation software using a standard touchscreen tablet allows the operator to see cut list progress in real time, perform on-the-fly editing and view statistical feedback regarding yield and other key metrics.
Crayon Defect Marking: Automate the defecting process and easily eliminate scratched or dented stock from ending up in the finished parts bin.
Cut-part Printing: Improve and perfect cut-part identification and sorting by printing dimensions and custom job information for each cut part.
See TigerSaw 1000 at FABTECH in Atlanta - Nov. 11-13 in Booth B4139
To view videos and testimonials or to request a quote, please visit www.tigerstop.com or phone 360-254-0661.