Other Products: Reelcraft Washdown Reels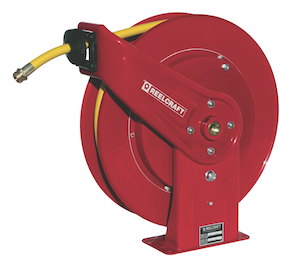 Reelcraft's washdown reels are designed to be mounted centrally and used for watering and washdown. These reels offer longer lengths of larger I.D. hose, are spring retractable and come equipped with garden hose fittings.
Reel components are made from industrial grade steel and ribs are added to give added stability. The guide arm is easily adjustable to numerous positions.
Parts are individually powder-coated for a high quality, uniform paint adhesion. The result is a brilliant abrasion/corrosion resistant finish that keeps these reels looking new through years of use.
For additional information call 1-800-444-3134 or visit Reelcraft at www.reelcraft.com.