Other Products: Parker FEP RoHS Compliant Tubing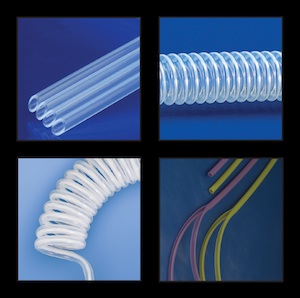 Parker Hannifin Corporation extrudes RoHS compliant FEP tubing from resins and colors certified to be free of mercury, heavy metals, and other hazardous substances restricted in accordance with the RoHS directive.
FEP tubing is available in multiple tubing configurations; smoothbore, heat shrink convoluted, corrugated, retractable coils and paratubing.
When necessary, extrusions are manufactured in the state-of-the-art, Class 10,000 clean room, assuring Parker TexLoc RoHS compliant tubing is of the highest quality and cleanliness.
Parker TexLoc FEP tubing is a RoHS compliant component used in electronic, medical, instrumentation and semiconductor applications where high temperatures and/or corrosive chemicals are present.
In addition, RoHS Compliant FEP offers a non-stick surface and is non-leaching.
When transporting media, FEP tubing is extremely clear in its natural state and allows operators to visually inspect the product in the tube.
Sizes range from .010" I.D. up to 4" O.D and are available from the TexLoc business unit in Fort Worth, Texas.