Professional Measurement: Fluke Versiv Cable Certification Testers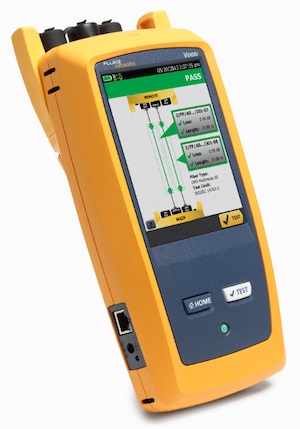 Fluke Networks announces its new family of Versiv Cable Certification Testers designed to help data communications installers more quickly, accurately and profitably achieve system acceptance for copper and fiber jobs.
Versiv is a powerful platform offering interchangeable modules for copper, fiber and Optical Time Domain Reflectometer (OTDR) testing, as well as new software innovations that speed test time and accuracy, and simplify testing setup, planning and reporting.
In a global study of cabling professionals, mistakes, complexity and rework are adding more than a week of labor to a typical 1,000 cabling drop installation, resulting in average losses of more than $2,500 USD. To combat these growing challenges, Versiv has been built from the ground up to go beyond testing and troubleshooting to address the entire certification lifecycle.
Key to simplifying the complexity is the new ProjX management system. In addition to allowing team leaders to set up test parameters to work across multiple jobs and media, the system accelerates planning and setup of projects by allowing technicians to capture consistent test parameters across an entire job, or switch from job to job by simply clicking between projects stored in the tester.
The system also allows up-to-the-minute project analysis and oversight to help speed certification and reporting. If problems are encountered during the testing process, technicians can create a "Fix Later" troubleshooting to-do list for later evaluation by more experienced installers.
Versiv also features an intuitive and instructive touch screen interface that elevates the capabilities of the less experienced installers, and increases the speed of testing and global ISO Level V testing compliance. From wizards that speed set up to the advanced Taptive user interface for navigation to new workflow enhancements, all of the new features in Versiv combine to make it the fastest tester on the market, so jobs get done right the first time.
For more information, visit www.FlukeNetworks.com or call +1 (425) 446-4519.